Can we please put this one in the category of Cutest Thanksgiving Appetizer ever? Maybe even Cutest Appetizer ever? Little pumpkin pie slices made out of cheese and crackers are genius. Find the how-tos to make them HERE at Project …
There's still one whole day left to make this cake! And be sure to check out the clever and easy way to make the turkey pattern on the side of this cake. Make a bright and cute turkey cake with …
Yes, be that host who thinks of everything! Even labels for your guests' leftovers. Find a free printable for Thanksgiving leftovers, and if you're a little late in the game (there's still time!), you'll also find a free printable for …
Finally, kids can do the work themselves. I'm loving this simple snack idea for kids to assemble their own turkeys from crackers, cheese and veggies. Find it HERE at Creative Food.
…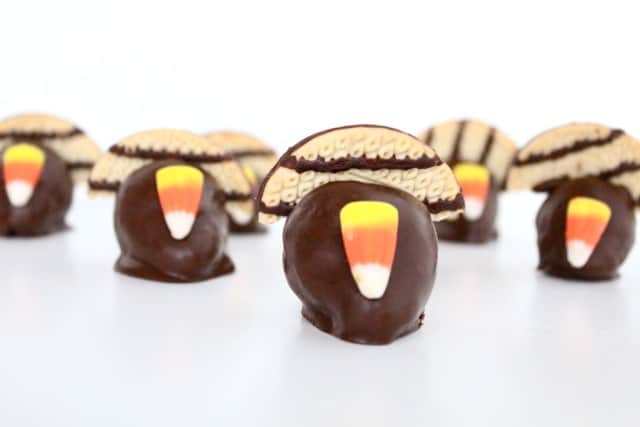 Mmm… chocolate covered strawberries. You really can dress them up for ANY holiday, even Thanksgiving. Make chocolate covered strawberry turkeys HERE at Sugar and Cloth.
…
Phew, I'm glad we know from the title that there's liquor in this spiked apple cider dip, or I'd have stopped reading. Ah, me and my liquor (that I can't even drink yet until this baby is born.) This one …
See these gorgeously decorated turkey cookies? You can make them, too. Honest. Because every single step is shown in this turkey cookie how-to HERE at Lizy B.
Not only do you get the how-tos to make these Pilgrim cookies from store-bought goodies atop a little cup, but you also get the how-tos to make these Pilgrim cookies from store-bought goodies atop a little cup adorably told through …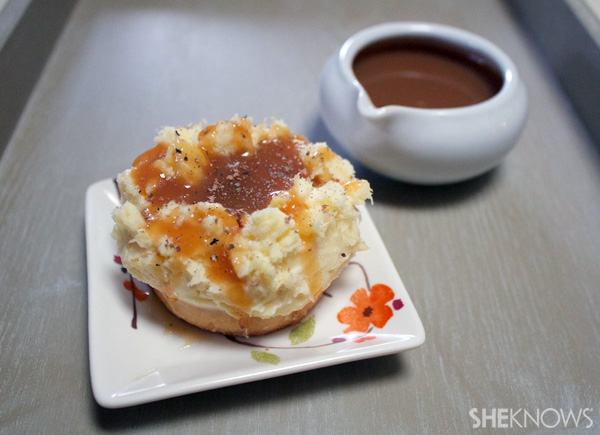 Mmm… mashed potatoes with gravy. This looks so delicious for Thanksgiving dinner. Except it's not actually mashed potatoes with gravy. It's cheesecake with caramel. And for once, the trick-of-the-eye dessert sounds and looks just as delicious as the fake out. …
Hello li'l guy, how ya' doing? Oh right, Thanksgiving is next week….  So guessing a little anxious. These cute turkeys just beg for conversation, methinks. They are looking right at me. Find the recipe and how-tos to make this chocolate …
Leave it to Jessie of CakeSpy to come up with the brilliant idea of putting all the pies your guests want in one dish. Find the recipe for The Pumpkin-Apple-Pecan Pie HERE at Serious Eats.
…
I'm a little on the fence how I feel about these placecards. Creepy? Or unique and clever? I think maybe the latter. Make personalized placecards HERE at Country Living.
…
Here's an easy idea for Fall-themed bread to put in your basket on the Thanksgiving day table… cheesy Crescent Roll leaves. Find the how-tos HERE at Hungry Happenings.
…
And speaking of Thanksgiving madness with cute food for kids… Make Thanksgiving lunch HERE at NBC's Dinnertool.com, by Jill of Kitchen Fun with My 3 Sons.
…
It's total turkey madness over at Kitchen Fun with My 3 Sons. Make turkey pot pies HERE (mmm, my favorite) and cupcake ice cream cone turkeys HERE.
…
keep looking »