It's true what they say about a dog being your best friend for their lifetime. Every day you spend with your woofing companion is always a cheery one – so bring the cheers to their birthday! Birthdays don't mean much to dogs but the special attention and extra delicious treats certainly do. So why not bake them a dog-friendly cake that's healthy yet still super yummy for your furry friend? They'll definitely appreciate the gesture – even if they inhale it all in one go!
In this article, we've compiled 10 birthday cakes (or anytime cakes!) that won't hurt your dog but are a special treat for them. Which one was your favourite? What recipe do you make for you companion on four legs? Let us know in the comments below!
Disclaimer: Craftgossip.com is not responsible for any sick puppers. Please follow the advice of your veterinary professional if required.
What a cutie! Nagi from Recipe Tin Eats made this cake for her dog Dozer's birthday and made it look so "real" using potato frosting.
2. Easy Homemade Dog Cake – Crazy For Crust
Adorable! Dorothy from Crazy for Crust made this cake for her dog Abby's birthday and added honey to sweeten it – an ingenious idea that's still doggo friendly!
3. Layered Peanut Butter Dog Cake – Bigger Bolder Baking
Naww! Gemma from Bigger Bolder Baking made this cake for her dog Waffles' birthday and used a similar recipe to whole wheat carrot cake.
4. Spoiled Dog Cake Recipe – Love From the Oven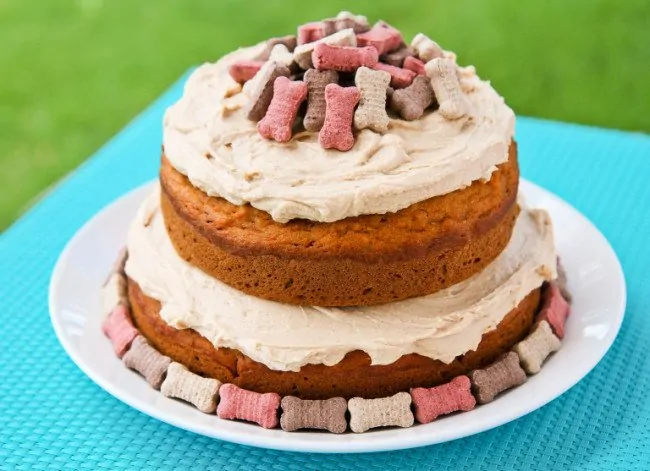 Mmmm… Christi from Love From The Oven made this cake to spoil her dogs for Spoil Your Dog Day. In her article, she also includes a recipe link to how to make your own dog treats for the topping.
5. Banana Carob Oat Cake With Peanut Butter Frosting – Baked By Joanna
Heaven… Joanna from Baked By Joanna made this cake for her pup's birthday and noted that it was VERY much approved!
6. Coconut-Honey Doggy Cake – Brown Eyed Baker
What a sweetie! Michelle from Brown Eyed Baker made this pupcake for her dog Duke's birthday with only a handful of ingredients – perfect to whip together!
7. Mini Berry-Almond Cake – Pretty Fluffy
Looks scrumptious! Sarah from Pretty Fluffy made this top tier bakery-looking cake for her dog Coco's birthday and was able to eat it with her fellow hooman too!
8. Grain-Free Dog Cake – A Cozy Kitchen
Adrianna from A Cozy Kitchen made this grain-free dog cake for her dog Amelia's sensitive stomach and she licked it up – no upset tummies in the house!
9. Easy Pupcakes – Jane's Patisserie
Jane from Jane's Patisserie made these pupcakes for her dog Rolo's birthday and used his favourite dog treats as a topping.
10. Sweet and Salty Dog Birthday Cake – Parsnips and Pastries
Tiffany from Parsnips and Pastries made this sweet and salty cake for her dog Cocoa's birthday and topped it with bacon – need I say more?