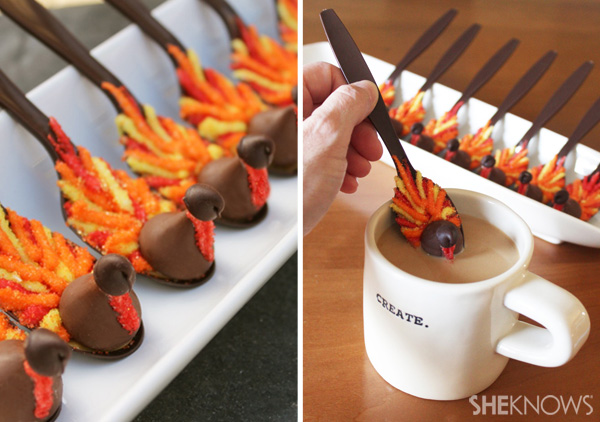 Beautiful, colorful, sweet, cozy and just right for Thanksgiving. I'm loving and planning on making these adorable (yet sophisticated) chocolate turkey coffee spoons. Make them HERE at She Knows, from
…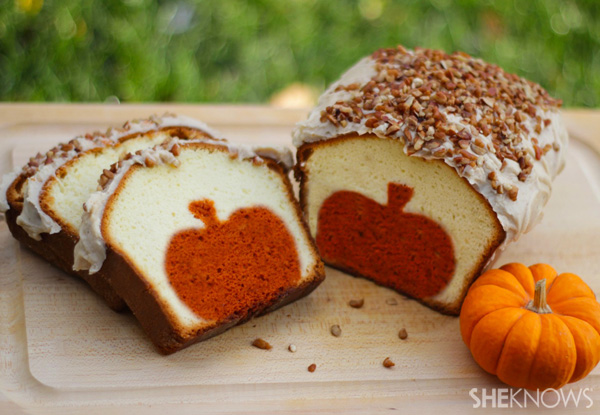 Everything about this pumpkin pound cake with brown butter pecan icing is perfectly Fall. Don't you want to know how the pumpkin inside this pound cake is so perfect? Find the recipe and step-by-step instructions, with photographs, HERE at She …
Cheesecake. A favorite of mine and many, many, many, many others. Fall. A favorite of mine an many, many, many, many others. Combine the two and we might explode. Make gorgeous cheesecake leaves for Fall HERE at Hungry Happenings.…
Turkeys are everywhere now in anticipation of Thanksgiving in the US. You can have turkeys for breakfast, lunch, dinner and dessert. Cases in point: Make stuffed "turkey" peppers HERE and turkey Reese's Peanut Butter Cup (my favorite) treats HERE at …
Some bite-size, sweet, kid-friendly, easy (any other adjectives?) Thanksgiving cuteness for ya'. Make mini turkey cookie and candy pops HERE at Sugar Swings!.
Here's one for an easy, simple, yet super-clever gift idea this Fall. Popcorn kernels packaged to look like ears of corn. Make them HERE at Joyful Stamper.
…
If I had my act way more together I would absolutely, positively make these turkey dinner Mayflower boats for the kids' table at Thanksgiving. Find this idea and more tips for dressing up the kids' table HERE at Moore Minutes…
Oooh, so pretty to bite into this taste of fall with the pumpkins and leaves hidden inside a cupcake. Find the how-tos and recipe to make them HERE at Blessings from My Kitchen.
…
Get the kids in there in the kitchen. Or just use a handprint cookie cutter. (I'm thinking speed and efficiency here, but I guess the former is more sentimental.) Either way, make handprint turkey cookies HERE at Taste of Home…
Loving this wealth of sweets for Thanksgiving this year. So often the best ideas are saved for Halloween and Christmas. Find the how-tos, with free template, to make these cute, chocolate Thanksgiving cupcake toppers HERE at Bird on a Cake…
Speaking of perfection… now check out these Thanksgiving cake pops. The teepees really got me. Make the turkey cake pops HERE and the teepee cake pops HERE at Miss Candiquik.
…
Candy, candy. Now that Halloween is over, we've GOT to find ways to fill the other holidays with candy. And snack cakes. We have to have snack cakes. Hey, there are pretzels in there, too! Let the kids help assemble …
Not only do you get Rice Krispies Treats pumpkins with this one, but you get a way to use some of that leftover Halloween candy. Make Krispies treats pumpkins with a surprise inside HERE at Kitchen Fun with My 3 …
What pretty pumpkins for Fall. What pretty and tasty chocolate caramel-filled pumpkins that look like real pumpkins for Fall. Yum. Find the recipe and how-tos HERE at Hungry Happenings.
…
Now, I have seen brown bag turkeys filled with snacks for a kid's Thanksgiving before, but brown bag turkey legs filled with snacks to feed the masses? Love this idea as much. Check out these turkey leg snack favors, perfect …
« go back
—
keep looking »