There's still another day for teacher appreciation week! Or, bookmark these for the end of the school year. I made packages of pencil cookies for the staff at my daughter's charter school. And I even made up this handy dandy …
Hee hee, these hand-drawn cacti printables somehow remind me of Spike from Peanuts. I find them utterly charming. Download the free printable to make cacti cupcake toppers (or use for banners and other decor) for Cinco de Mayo HERE at …
That is, a free printable birthday cake banner in the style of chalkboard. Cool, huh? Find it HERE at Minted Strawberry.
Look how pretty these molded sugar gems are all dressed up, and they make such lovely favors. Find the recipe and packaging how-tos, along with the link to the labels HERE at My Own Ideas.
…
You can't possibly ask for an easier Easter treat and favor than Peeps on a stick, and the printable is free for ya'! For the free Easter Peeps pops printables, visit Make Life Lovely.
I think I'm not alone in loving free stuff. Especially super-cute, timely and useful free stuff. Here's a collection of such printables for Easter from around the web. Shown above are Easter bunnies from The Celebration Shoppe. Here are …
What do you think? All the treats-as-poop thing. Unicorn poop cookies, Reindeer poop candy… I'm kind of on the "ew" side, but gosh, these Leprechaun Poop jars do look darling. And I never thought I'd use "poop" and "darling" in …
Yes, indeed, it really is as simple as that. Find the free printable for these oh so perfect rainbow lollipop cards and lollipop flags for St. Patrick's Day HERE at simple as that.
…
Valentine's needn't be all pink and roses and Cupids. You can get in the dirt a bit, which I bet all kids not into pink and roses will appreciate. And bonus. Free printable for the cupcake topper. Find the heart-shaped …
I have to admit, I have a little crush on Lisa Storms. Everything she touches is pure gold. Find the free printable for these arrow Valentine's (just add chocolate hearts) HERE at Lisa Storms.
…
Aw, rainbows work in any situation. Find a free printable for Valentine's Day favor toppers HERE at Mighty Delighty. Just add any rainbow-colored candy of your choice.
…
I know, these frog and princess cupcake toppers are adorable. And they are free. But wait, there's more to these characters! You can also find them in Carla Chadwick's first children's eBook, Up, Up and Away: The Adventures of Mrs. …
The teeny, tiny, "X"s and "O"s are just too much. I'm loving this cute and clever idea for Valentine's Day candy buttons. And bonus: A free printable and pattern grid are included. Find the how-tos to make them HERE at …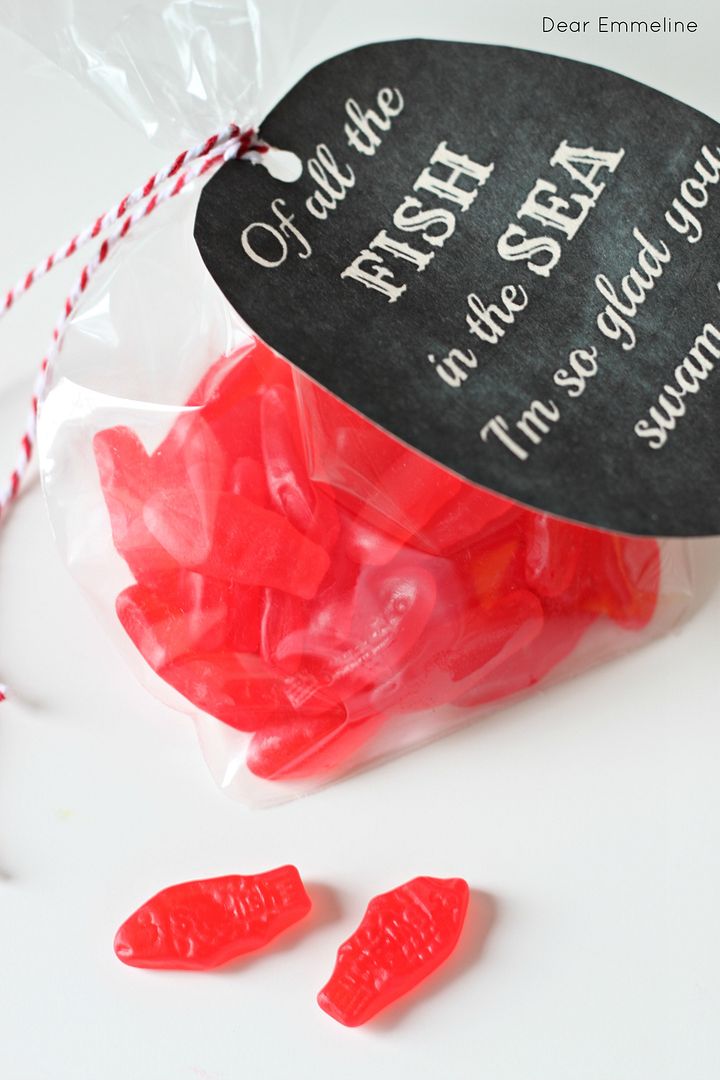 Ah, the infinite variations to say "I love you" via a printable with a clever saying to put on a favor bag filled with treats that inspire said clever saying. Now that's a mouthful. And I'm not entirely sure it's …
Even though I'm not a fan of gum chewing in general (seriously,incessant gum poppers, do you really think think the rest of the world can't hear you?)… I can't resist this too-cute, free printable for Valentine's Day gum wrappers. Created …
keep looking »