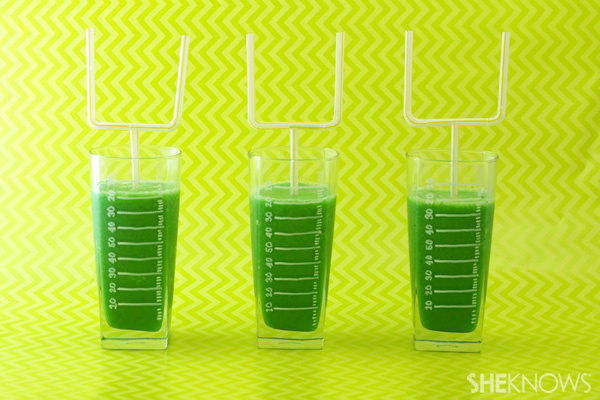 Dessert and cocktail in one? I can think of no better combo. Plus, there's spinach in there, so you get your iron for the day. Cocktail aside, the football dress up would work with any green drink. Make Super Bowl …
I know we're still a ways away from summer barbeques where I am in the world, but for those of you in warmer places or for those of you who are good at remembering things months later, how cute are …
I've seen plenty of hot chocolate on a stick out there, but I don't know if I've ever seen a solid tutorial to actually make your own. This is one. And they are so pretty to boot. Find the how-tos …
Now these would be a pretty addition to a glass of water. Or maybe pink lemonade. Oh, who am I kidding, to a cocktail. I love the idea of pomegranate ice cubes. Find the how-tos HERE at Make the Best …
Now I, for one, am a coffee drinker. My mom, on the other hand, is an avid  tea drinker. So I fully appreciate the coffee accessory (the filter) that contributes to what would be a perfect gift for her: Make …
Just perchance you have a robot party in your near future… I'm loving these easy juice box robots. Find the how-tos HERE at Gifts that Say WOW. (Spotted on Fun Family Crafts.) And if you need some more …
I can almost guarantee this cotton candy cocktail will be the prettiest, fluffiest cocktail at your New Year's Eve party. And by the way, for those with future princess parties in mind, I've also seen this cocktail made with Sprite …
Not drunk enough from your snowman JellO shots? Then make some gingerbread man JellO shots. Find the recipe HERE at Rock UR Party.
…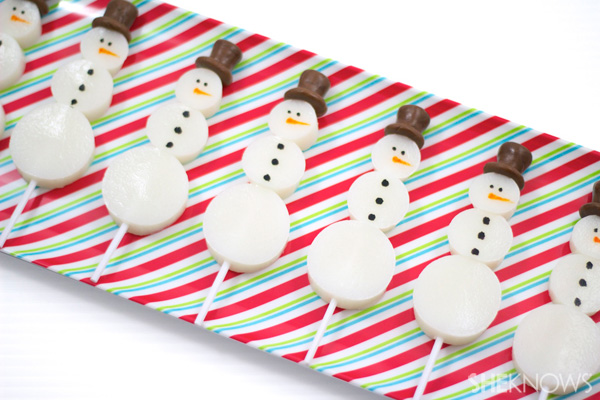 Pina colada snowman JellO shots. On a stick. I think these were made for me. Pure and utter brilliance. Find the recipe and how-tos HERE at She Knows.
…
Seriously, I challenge you to come up with an easier idea for cutting shapes into marshmallows. Thank you, Jet-Puffed, for your StackerMallows. Find the how-tos to add marshmallow shapes to your hot cocoa HERE at tikkido.
…
I'm pleased to say that my baby has arrived. Which means… I can soon have a cocktail. What a pretty way to start this would be. Also, what a pretty gift for a party host. Infuse your own cranberry and …
I've seen so many pricey–albeit adorable–dress-ups for bottles this Christmas in so many stores. I'm loving this DIY alternative. Also adorable, and far less pricey. Dress up Christmas drinks for gifts HERE at Kojo Designs.
…
This one is, I suppose, considered an "oldie" in the fast-moving, crafty internet world. Six years! Egads. But I just love them. Make Santa Swizzle sticks from HERE at Martha Stewart. The link also includes a free template for …
How many of you know some grown-ups who would just love this? I'm thinking of one that lives in my house. A beer Advent calendar. Open up each day to find a can of beer. All of the step-by-steps, with …
I always seem to push the cocktails during the holiday season, for any family gathering. Why is that? Family, holidays and cocktails just go together. Make a "Jewish Manhattan" for Hanukkah, and read the story of said cocktail, HERE at …
« go back
—
keep looking »