I'll take one of each, please. This new line of cake stands is called "Simply Stunning," and I agree, what with the modern feel to these. Also, I want a cake stand made out of carbon steel. I don't know …
Need some ideas for sort of silly (and sometimes practical) gifts, stocking stuffers, partyware and kitchen tools for those who love the food and drink? Check out my roundup of ideas over at Houzz, HERE.
…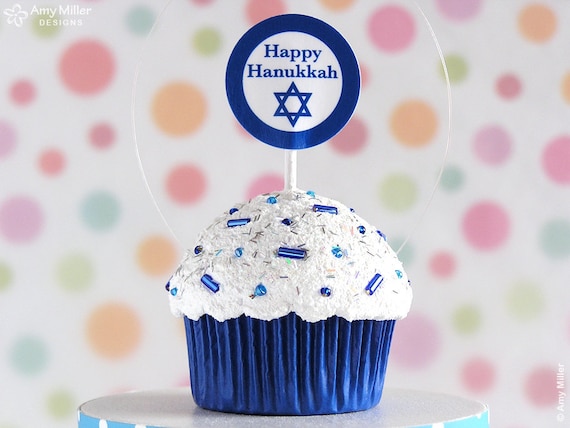 It's time to pull out the blues and the whites. Here are a bunch of baking and party wares for Hanukkah from around the web.
1. Above is a Hanukkah cupcake ornament from the etsy shop, Amy Miller Designs…
A trillion dollar invention maybe? This means I no longer have to choppily cut up patterned paper and tape to my cake plates, leaving residue that never really comes off (yeah, I do that). Cake Plate Clings. Learn more about …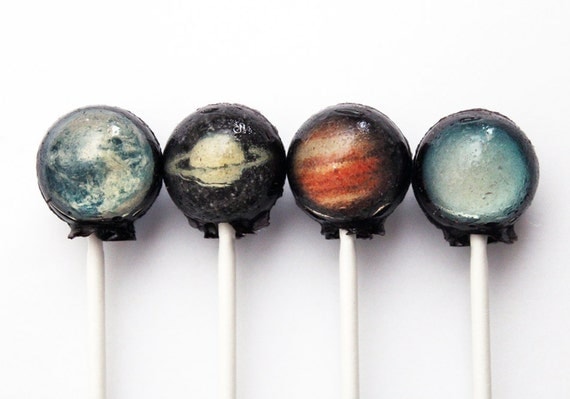 I'm a nerd about many things, but I wouldn't say inter-galactic fascination is part of my particular brand of nerd. But these crazy awesome lollipops could win me over to the great unknown. Find these and some more of the …
I was pretty sure I saw it all from the macaron world. Ice cream cones, ducks, rainbows, cats, pigs, lanterns, sheep, snowmen, devils, UFOs… I could continue with the shapes of macarons out there. But I've never seen macarons with …
First, the super yummy-sounding cupcakes… Pina Colada with Kiwi frosting? A resounding "Yes, please." Find the recipe HERE at A Spicy Perspective. But wait, there's more. Those gorgeous dried pineapple and kiwi flower cupcake toppers? Crafted and for sale …
Have you seen the incredible cookie decorating skill of SweetAmbs yet? If not, I thought I'd lead you there immediately. Exquisite is the word that first comes to mind. Check out her etsy shop HERE. Shown are the Mother's …
Leave it to epicurious to collect some must-haves for the foodie mom. Find the roundup of ideas HERE. Pineapple purse anyone? I think the sack made from cork fabric would be more my speed, personally.
…
Aw…. a vodka that evokes memories of childhood. Sigh. Oh, wait. That doesn't seem right. Yet, I'm terribly curious. Find peanut butter and jelly vodka HERE at Van Gogh Vodka. Spotted on Incredible Things.
…
A true work of magic… how cool (pun intended) is this bunny popsicles mold? Find it HERE, spotted HERE.
…
Remember when I mentioned the Cupcake ATM? Well, see it in action…  Huffington Post writer Lucy Blodgett shows us how it works on video. View the article HERE. Spotted at Foodbeast.
…
First there was Han Solo in carbonite, now… R2D2! You can use these silicone trays for ice, yes, but also chocolate and candy. Geeks rejoice!
…
Aren't these crazy adorable? Not to mention easy to make yourself with paper and a printer. You can also vary the baskets with embellishments, or no embellishments for simplicity's sak). There's also an inexpensive matching Easter printable party set you …
And it's not the only edible skull. Find a roundup of  edible skulls HERE at Don't Panic, including this chocolate skull cast from a real skull, created by Marina Malvada. {spotted HERE}
…
keep looking »